Once you've added jobs to the schedule, ServiceCore lets you establish routes to help save you time.
Routes allow you to group together jobs which repeat once a week, while adding destinations and departure times. Routes can be optimized, or saved in your preferred order so that every week they repeat in the same exact order.
In this article we'll walk through the steps to Create a Route.
Before You Start
Before creating a Route, please keep this in mind:
How to Create a Route
Follow these steps to create a Route:
Show Me How:
For step-by-step, guided help creating a route in ServiceCore:
Click on this link: Create a Route
Tell Me How:
Follow these steps to Create a Route:
Navigate to the

Settings

page

Click on the

Schedule Settings

tab
Click on the Routes tab
Click Add Route
Select Technician and Day of the Week
Choose a Departure Time, Start Destination and End Destination
Select Jobs for your Route using the Drawing Tool
With the Drawing Tool enabled, highlight the jobs on the map
View Jobs and Optimize Route
Once the route has been optimized, you'll see the following message:
Give the Route a Name and click Save
After you create a route
Now that you've created a route, you'll be able to identify it on the schedule.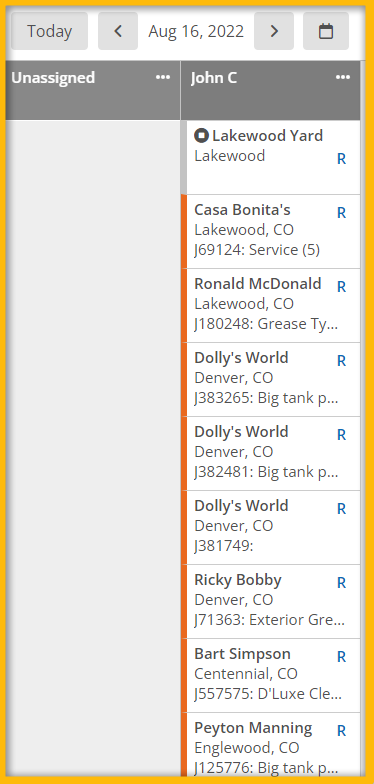 The letter "R" listed on jobs on the schedule indicates that these jobs are part of an established route.
How to Edit a Route
If you need to make changes to an existing route, follow these steps:
Locate the Route you wish to edit.
Click Edit Route
Make desired changes
Click Save
FAQs
How do I change the order of jobs on the route?
While adding or editing an existing route, scroll to the View Jobs and Optimize Route section. Find the job you want to move around and click the grid panel to the left of the job. Once you click, grab and drag the job to the desired spot on the list.

How do I make my route start and end at the same place?
Create a destination on your schedule, then when you create a route you can add it as the start and end destinations for that route.
Does the saved route feature allow me to include jobs that are set for every other week?
No. Saved routes only accommodate jobs that repeat 1x per week every week.