When you and your technicians are on the go and need to view and complete jobs, record GPS locations and manage inventory, ServiceCore's mobile application can help. ServiceCore is also designed to be mobile-friendly, so you can work with the full application from your tablet or other mobile devices.
In this article, you'll learn more about how to use ServiceCore on mobile devices.
Get the App
First things first. To use the ServiceCore mobile app, you need to download it:
| Android | | iOS |
| --- | --- | --- |
| | | |
Set Up ServiceCore for Android or iOS
Whether you're using ServiceCore for Android or iOS, you will login using your existing account credentials (email address and password). Any new ServiceCore users – including you, staff or technicians – will need to have a ServiceCore account created for them before logging into the mobile app for the first time. Here's how to Add and Manage A User.
Once each user has a ServiceCore account, they can login to the ServiceCore mobile app.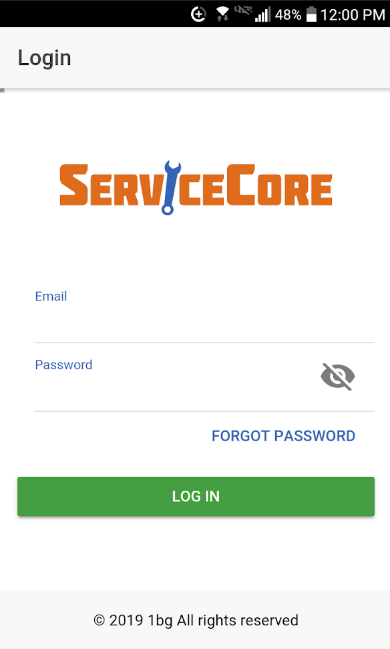 Mobile-Friendly View
Supported Devices
The ServiceCore web-based application is designed to work on mobile devices including:
Android tablets
Android smartphones
iOS tablets (iPads)
iOS smartphones (iPhones)
About Unsupported Devices
Non-Smartphones
If you use a non-smartphone cell phone, such as a flip phone, the features and usability of ServiceCore will be severely limited. ServiceCore is designed to work on smartphones, tablets, laptops and computers.
Responsive Design
When you use ServiceCore in a web browser, the web application will resize and adjust to fit the display of the mobile device you're using. The navigation bar will condense into a 3-line (hamburger) menu and move to the upper right of the header. The (+) menu of quick actions, and the global search will stay in the upper right corner of the header.
You can use all features of the ServiceCore web app on your mobile device. Keep in mind that on small screens, the schedule can be difficult to use properly. We recommend using a laptop or desktop computer with a monitor when working with the schedule.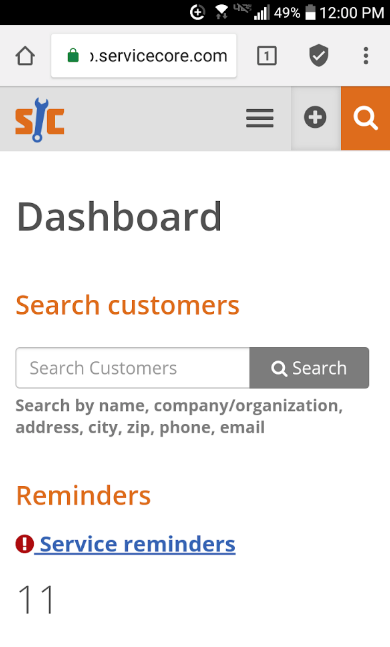 For more information about the ServiceCore mobile app, check out: Mobile App Overview.