ServiceCore lets you streamline your billing with recurring invoices.
Choose a billing type (advance or arrears), a frequency, start date, and ServiceCore will take care of the rest!
In this article, you'll learn how to create a recurring invoice.
Before You Start
Here are some things to know before you begin this process:
Create a Recurring Invoice
Show Me How
For step-by-step, in-app help creating a recurring invoice, follow these steps:
Then, click on this link: Create Recurring Invoice
Tell Me How
For written instruction on how to create a recurring invoice, follow these steps:
In the header, click the (+) icon
From the list of options that appear click Create Invoice


Enter or type in the Customer field to search for the customer
Click on the appropriate Customer from the list of customers that appear

Fill out the fields in the upper portion of the screen as needed
Select the Billing type of Arrears or Advance


Choose the Recurring interval (daily, weekly, monthly, or yearly)
Choose the frequency based on which interval you've chosen
Type in the Start date or month
If the customer has a credit or debit card on file, and you would like to automatically charge the customer for each recurring invoice and send a receipt, check the box for Enable Autopay for this invoice
Choose the Credit/Debit Card to charge for this recurring invoice

Fill out the rest of the fields on the form
If you have surcharges created in your company settings you will see a section on invoices called Surcharges
You can add surcharges to invoices by using the search box

Percentage surcharges will be automatically calculated on the Invoice Subtotal on all invoice

Once you're finished, click Save
After you've set up a recurring invoice
Once you've set up a recurring invoice, you'll get recurring invoice reminders to help you keep track of when you need to run batch billing.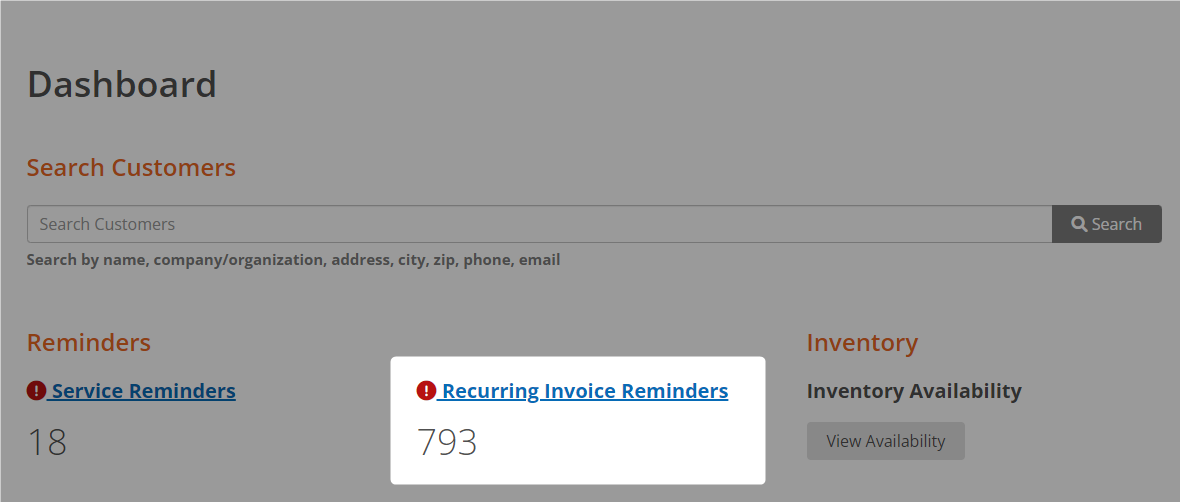 Clicking into the reminders link will take you the Recurring Invoices tab where you can easily send out your invoices in bulk.
Next Steps
After creating a recurring invoice, you may want to learn about: