When you send through a feature request for ServiceCore, you may think your request goes into a black hole, never to be seen or heard from again. When you receive a reply from the Support Team or Product Team letting you know we'll take your suggestion into consideration, depending on your level of skepticism, you may or may not believe this is true. We're here to tell you, it is true! We consider each and every feature request that comes through from customers.
In this article we'll explain what happens after we receive your feature request. We'll pull back the curtain and shed a little light on what happens in product planning and development at ServiceCore.
Product?
In this article we sometimes use the word "Product" to describe ServiceCore. ServiceCore is our product. Even though you can't hold ServiceCore in your hand like a football or a bottle of laundry detergent, it's still a product. At ServiceCore, when we're working on the web app or the mobile app, we're working on our "Product" which is in turn planned by our "Product Team". The Product Team decides what the Development and Engineering teams will "build" to make our product even better. Like improving the recipe of ketchup to make it more tomatoey, we're always working to improve the recipe of ServiceCore to make it better for what you and your business want and need out of a software.
Incoming Feature Request!
When you contact us using the Submit a Request form, a member of the Support Team is the first to see your message. A real, live human being sees your feature request (no robots!).
If your request can be answered with a knowledge base article or a little training, we'll reply with that information. Sometimes requests we receive are for things that already exist or are about to be released.
If your request is for a new feature or an improvement to an existing feature, your request is placed onto an internal Feature Request board.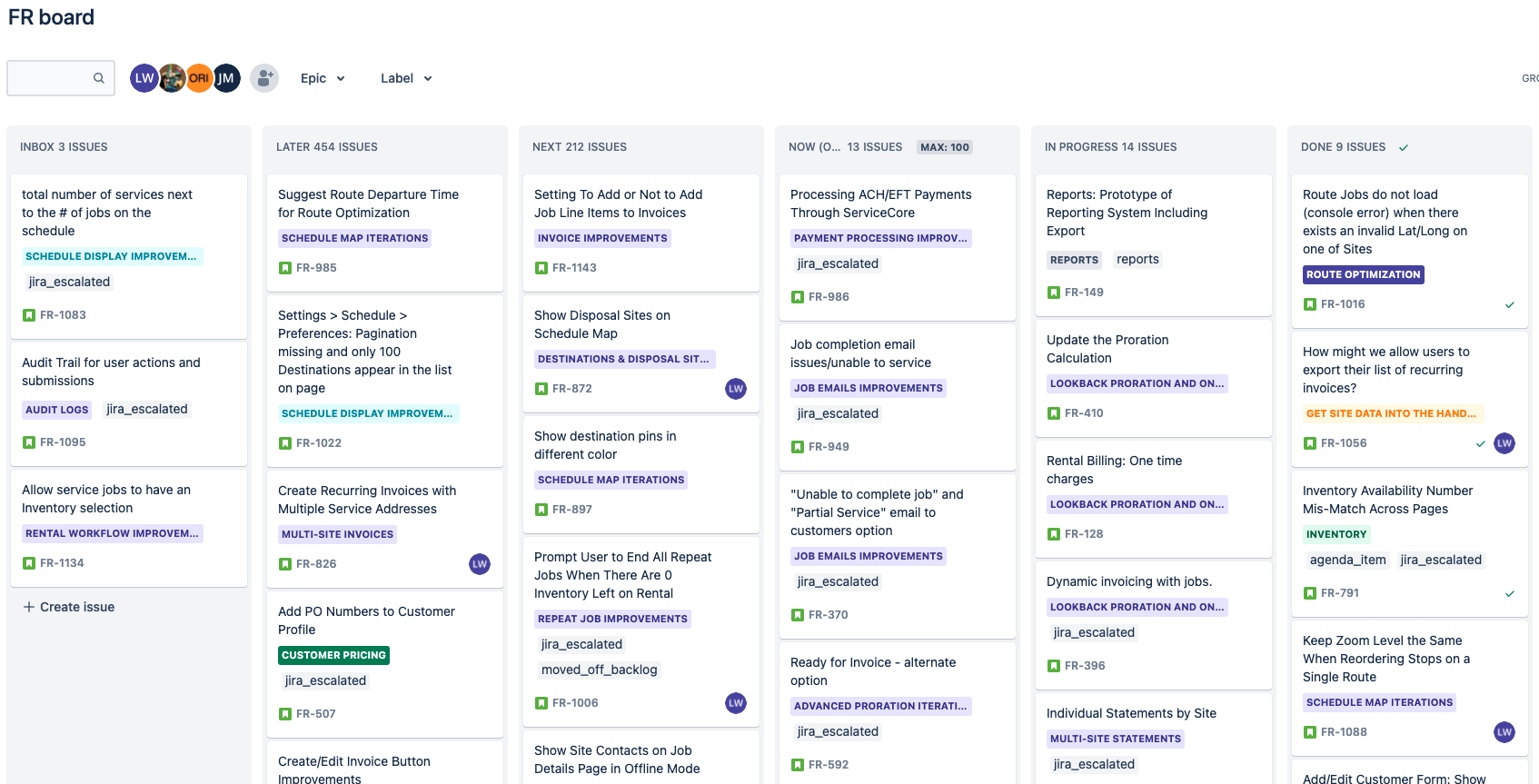 Your request lands on this board in the Inbox column. This is where we gather suggestions and feedback from external customers and internal customers (our co-workers). The Product Team gets together once a month to go through this list and to decide where each card on the board should move next.
We use four main categories to track feature requests:
Later: Items that are not yet on our product roadmap.
Next: Items that are on our product roadmap, but we don't have plans to build this feature quite yet.
Now: We are looking to start development soon. We don't have a specific timeline yet.
In Progress: Features and change requests that are actively being built or tested.
Roadmap, or bust!
During our monthly meeting, the Product Team reviews items in these categories to decide what requests are promoted to be worked on now or next. Once the Product Team has promoted an item to the roadmap, that means that we are deciding to spend time, effort, resources and money to build this feature. When a feature makes it to the roadmap, we still don't know when it will be worked on, we only know that it will be worked on at some point in the future. Even if a feature makes it to the roadmap, it's still subject to change. If the market throws us a curveball like COVID-19, we may opt to remove items from the roadmap.
Once we start working on a feature, it gets moved to the In Progress column. At this point you will likely receive a reply to your original feature request. We want you to know about the status of your request and keep you updated on its progress.
Once a new feature is finished and live to the world, we move it to the Done column. More about this in the next section.
Sometimes we'll mark an item as done, and it falls into the "Not Doing" category. These are items that already exist and were solved with a training or knowledge base article. Or items that were fixed or changed in the software by other development work. Other items that land in the "Not Doing" pile are things that don't align with our core verticals, core values, or our vision for the future of ServiceCore. Feature requests for items that benefit only a small number of customers or have little appeal for all ServiceCore users won't make the cut, as well as anything that would violate data integrity or the security of our system.
This isn't what I asked for!?!
When you receive the good news that your request is live, you may be surprised at what you see in ServiceCore. It might not look like what you asked for. This happens because rarely there's only one way to solve a problem. When we receive a feature request, and decide to put it on the roadmap, that's when the hard part starts: the planning phase.
The planning phase often takes longer that the building phase. That's because we want to "build the right thing" before we proceed to "build the thing right". In order to build the right thing, we take the feature request you sent through and ask, "What is the problem you are really trying to solve?" To answer that question, we talk to several customers, create a variety of mockups and designs, flowcharts, and we speak to subject matter experts if needed. After gathering all this information, then we decide on the best way to solve the problem, whatever form that takes in the end.
It's Alive!
After the new feature is planned, designed, built, tested and delivered, then we'll let you know. We do this by sending you a reply to your original feature request or by replying to your support ticket. We also mention all new features or improvements on our Release Announcements page.
We encourage you to visit our Release Announcements page and to click on the Follow button so you'll know when new features and improvements go live in ServiceCore.
Join the ServiceCore Research Group
When you join the ServiceCore Research Group, you will have a direct line to members of our Product Team. You'll help us discover how to make ServiceCore work even better for you. You'll be invited to interviews, usability studies, surveys and more.
Every study is different, and each session is no pressure and requires minimal time commitment. If you're interested, please tell us a little more about yourself by filling out this quick questionnaire: ServiceCore Research Group. We look forward to meeting you!