When you pair recurring invoices with ServiceCore's batch billing functionality, you can instantly save yourself hours of time and effort each month creating invoices for your repeat business.
Plus, if you're a rental company, batch billing handles proration and mid-billing cycle rental activities so you don't lose out on any rental revenue. Batch billing also allows you to setup invoices for AutoPay, so you get paid immediately, rather than waiting for a check in the mail.
In this article you'll learn how to use batch billing for recurring invoices.
Before You Start
Here are some things to know before you begin this process:
You must have Manager, Admin or Owner level permission to use batch billing to create invoices from recurring invoice templates
Batch billing is not automated, meaning, you must initiate the batch billing process each time you want to create and send invoices to customers
Invoices can be sent to customers by email or the invoices can be sent to your inbox as PDFs to download, print, and send via postal mail
Pre-Requisites
To take advantage of all the great features of batch billing, you will also want to follow these steps before starting to use batch billing:
Batch billing only works with recurring invoices, so please make sure you have recurring invoices created first by following the steps in this these help articles:
To have invoices paid through AutoPay, make sure you're set up to accept online payments by following the steps in this article: Accept Online Payments
You will need to add a credit or debit card to your customer's profile. You can follow the steps in this article: Add a Customer Credit or Debit Card
If you want to use rental rates for these invoices, follow the steps in this article: Add Rental Rates
Read and make sure you understand how proration works for recurring invoices by reading over this article: About Proration
Ensure that you have access to the email inbox of the account that you use to login to ServiceCore so that you can receive any PDF versions of invoices generated for your "Print Preference" customers during batch billing
How to Use Batch Billing for Recurring Invoices
Show Me How
For guided, step-by-step help with batch billing, follow these steps:
Then, click on this link: Use Batch Billing
Tell Me How
For written instruction on how to create a recurring invoice, follow these steps:
Navigate to Accounting > Invoices > Recurring Invoices

Use the Filter By options and From and To date ranges to narrow your list of invoices to just those invoices you want to create


Note: Any invoices where the Previous Date and Next Date are red mean that the "Next Date" is before today and it might be time to create these invoices

Tip! Increase the pagination to 100 to see more items in the list at once

Once you're happy with the list of recurring invoices, check the Select All checkbox to select all recurring invoices on this page

Scroll to the bottom of the page and click the right arrow to move to page two


Check the Select All checkbox on page two

Continue selecting all invoices across all pages
Click Create Invoices



A message will appear while ServiceCore generates your invoice preview that looks like this:


Wait for the Your invoice preview is complete. message to appear (this can take several seconds or minutes depending on how many invoices are in the preview)
Click View Preview

Preview The Invoices
Once the preview page appears, follow these steps:
Review the invoices
You will see a flag on invoices when the total for the next upcoming billing cycle is different than the previous billing cycle total

When you hover over the orange warning icon, you'll see this help text: "The invoice total for this billing period does not match the invoice total of the previous billing period. This is likely caused by additional delivery, pick-up, exchange or service jobs."

To view invoice details, click the Blue Plus Symbol button for an invoice

For rental invoices, any mid-billing cycle jobs will be automatically added to the invoice so you don't have to do this manually

If there are any negative invoices, please click Remove to remove those invoices from batch billing (you will want to review these manually and make adjustments to them because you cannot create negative invoices in ServiceCore)

If there are any other invoices you don't want to create, click Remove for those individual invoices
Once you're happy with the invoices in the preview, click Create & Send Invoices


You will see a message while the invoices are generated that looks like this:
After invoice generation is complete, you will see one or more of the following messages appear at the top of the page:

Invoices Created
Payment failed for any invoices where the AutoPay to the credit card associated to the invoice was unsuccessful (e.g. expired credit card, insufficient funds, etc.)
Check Your Inbox
After the invoices have been created via batch billing, check your email inbox for the following emails. Depending on the communication preferences of the invoices, and whether any of the invoices have AutoPay enabled, you may not receive all of the emails listed below:
Batch Invoices
This email will be from "no-reply@servicecore.com" and will contain a single PDF attachment that has all PDFs from batch billing aggregated together into one multi-invoice, multi-page PDF. Please keep in mind:
Your next step will be to download, print, and send these PDFs to your customers by postal mail
Any recurring invoice where the Preferred Communication

method is set to

Print

will be sent to you as a PDF

If your batch billing contains more than 100 invoices with a Preferred Communication of Print, you will receive multiple "Batch Invoices" emails, each containing 100 invoices in the single PDF attachment
Email Preview

Review of Batched Invoices
This email will be from "no-reply@servicecore.com" and will contain a list of all invoices sent directly to your customers via email. This happens when the Preferred Communication method on the recurring invoice is set to Email. In this case no PDF version of the invoice will be emailed to you.
Email Preview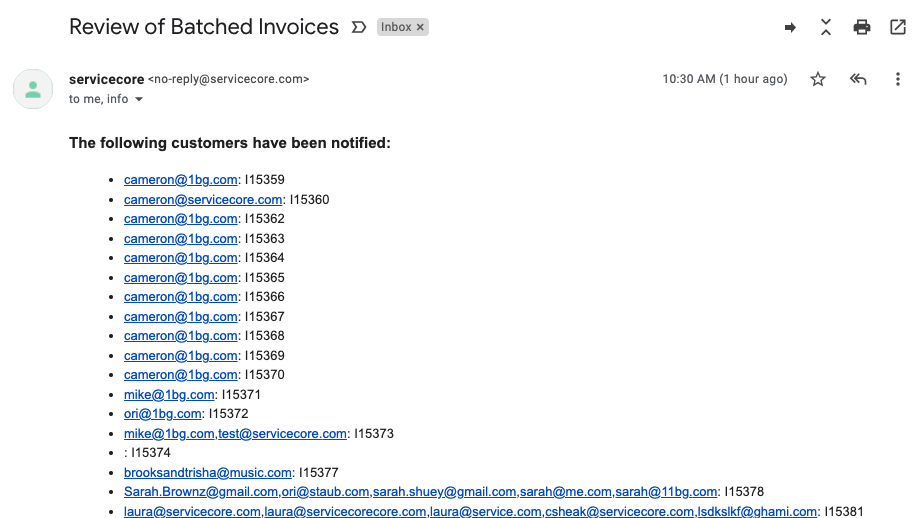 Review of Batched Payments
This email will be from "no-reply@servicecore.com" and will contain a list of all successful and unsuccessful payments from your batch billing.
Email Preview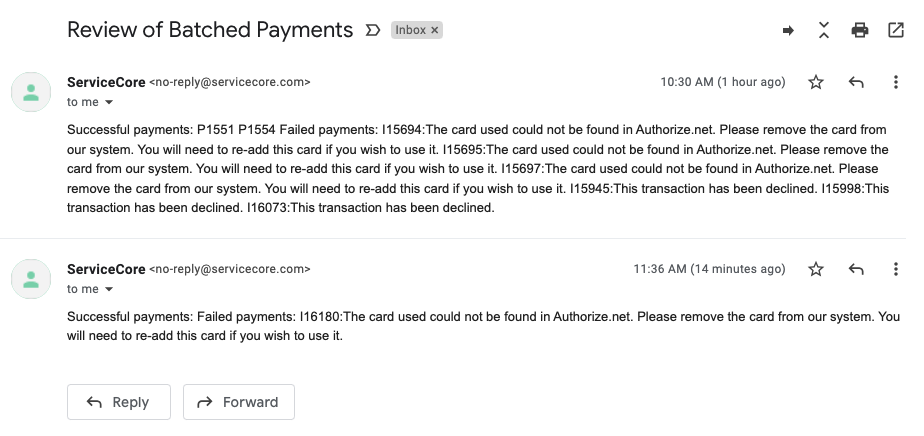 Frequently Asked Questions about Batch Billing
Where does the previous date and the next date come from?
The previous date represents the date on the invoice that you created previously with the recurring invoice template.
The next date marks the end of your billing cycle on the recurring invoice template.
You can set these for the first time by setting them on the first recurring invoice.
You can also edit the next date by using the edit recurring button and chancing the recurring frequency.
What if I need to update the recurring template? How do I change it?
You can edit the recurring template and adjust accordingly to update. You can find the edit button by clicking on the drop down arrow next to "Create Invoice" button on the recurring invoice reminder shown in the video.
How do I remove all invoices from the preview?
Scroll to the bottom of the page and click on Remove All Invoices in the bottom right corner.

Click Remove All Invoices in the pop-up that appears